SokSiphana&associates wins Cambodian IP firm of the year at Asia IP Awards 2019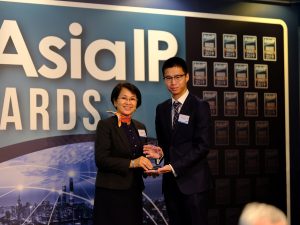 (source: Asia IP)
SokSiphana&associates was awarded Cambodia Firm of the Year in intellectual property at the 2019 Asia IP Awards ceremony held on 8 November 2019 in Taipei, making it the only firm in Cambodia to win this award.
Accepting the award was Khieu Mealy, Head of the firm's Intellectual Property practice. She is recognized as a Leading Lawyer in intellectual property whose expertise embraces all facets of IP ranging from registration and enforcement to transactional and regulatory advice.
"We'd like to thank our amazing clients for their ongoing support over the years. Cambodia's intellectual property regime is constantly developing and we look forward to helping to promote IP rights throughout the country," commented Khieu.
Asia IP is a source of intelligence for IP-owning companies active in Asia, and international law firms which want to keep ahead of the key issues. The magazine includes a range of in-depth features, news and analysis designed to meet the information needs of in-house counsel, senior business leaders and partners at Asian and international law firms.
For more information about this year's winners, click here.